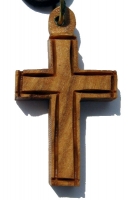 All Christians will truly cherish these beautiful Cross Mens Necklace available at HolyLand-Gifts.com. These tailor made cross necklaces are meant for men and come in a variety of different styles and sizes. Additionally, they also come in a number of different finishes and suit specific needs of men who wear them for a religious purposes.
Elegantly and carefully designed with olive wood from the olive trees around Bethlehem, these men's cross necklaces symbolize eternal life. To get these amazing crosses in different styles and designs, spend a few moments browsing our selection of crosses and select what is ideally suitable for use as First Communion, Baptism, and Confirmation gifts, and many more.
If you are looking for something fascinating and inspirational, then a unbeatable cross necklace as a gift can stun your friends and family.





  Brian Merritt, March 10, 2011
I found a "gorgeous" cross Necklace from here. Everyone comments one it's unique style and classy look.It has great quality looking too ordinary.The price was great also!
---