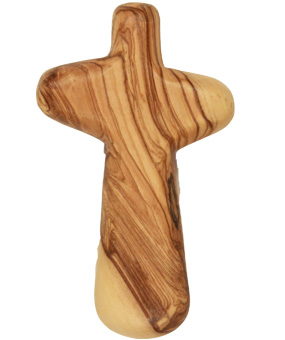 Comfort Cross Made of Olive Wood
DescriptionThis "Comfort Cross" comes from the ancient Olive Trees around Bethlehem, the Holy Land. This is the same type of tree that grew in the Garden of Gethsemane where Jesus prayed. The olive tree is also remembered by some as the one of Jesus' crucifixion. This cross is the perfect companion as you hold it in the palm of your hand during prayer, mediation, quiet or devotional time, to enhance your experience of coming closer to Christ.
Just the right size to hold in your hand while praying or meditating, this beautiful cross features smooth rounded edges that enhance the experience of coming closer to Christ. Not surprisingly, this is our most popular cross and one of our best-selling items; past customers have given it to youth, pastors, friends, and those who are in the hospital or in care facilities. A wonderful gift for confirmation or any other occasion, and very nice "just because," this is a cross that only gets better with age.
Product Heigth: 4.0″ / 10cm
Product Width: 3.0″ / 8cm