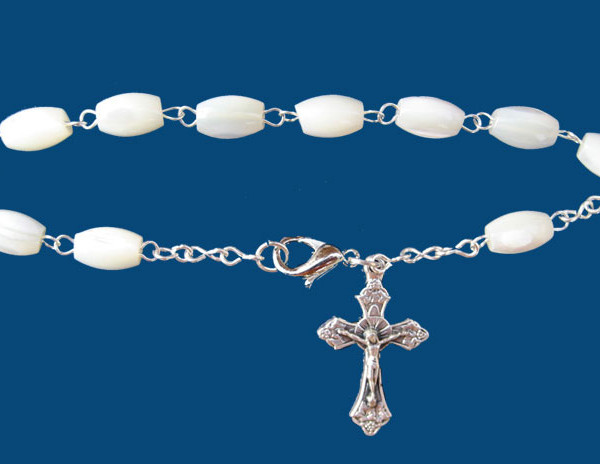 Mother of Pearl Bracelet with Cross
DescriptionMother of Pearl is a colorful, elegant jewelry component that is widely used in the making of different Holy Land gifts. This shell has become a significant source of crafting Holy Land jewelry designs. Craftsmen love the beautiful jewelry Mother of Pearl allows to be created and Mother of Pearl jewelry is unique in its color and shine.
A wonderful First Communion gift, and a great gift for Confirmation as well, this Mother of Pearl Bracelet is actually a Chaplet Bracelet, which is a smaller version of the Rosary beads often used by Catholics and other Christians to keep track of their prayers while focusing intently on the prayers themselves. Made from carefully hand-carved mother of pearl beads, and featuring a soft iridescent shine, this bracelet includes a dangling crucifix. Very nice to wear, and wonderful to display, this lovely chaplet bracelet rosary is sure to be well received.
Product Length: 7.5″ / 19cm