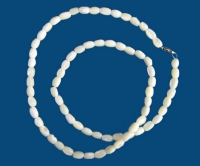 A beautiful piece of jewelry that is certain to be admired wherever it is worn, this strand of handcrafted mother of pearl beads is much different from most jewelry worn today.  Made from individually crafted beads using sustainable mother of pearl necklaces sourced from Australia, it has a soft iridescent gleam that looks lovely, plus, it feels marvelous next to the skin.  The beads themselves are crafted one by one using ancient techniques and tools passed down from father to son, through one generation after the next. Perfect for pairing with casual and dressy styles, this necklace makes a fantastic all occasion gift.
So what are you waiting for? Browse our website and find flawless necklaces that make you feel satisfied and content when you wear one of them around your neck.






Brian Lightner , Jan 11, 2013
Everytime I have gone here they have always been super nice and very helpful, They provides nice collection of all jewelry products !
---