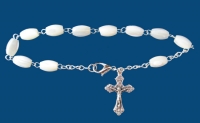 Add an elegant finishing touch to your style with an exclusive assortment of necklaces that have been deliberately designed with Mother of Pearl White.
At HolyLand-Gifts.com, we are committed to upholding our well known reputation for great selection of religious items and a superior customer service.

Mother of Pearl is known to be from a mollusk shell, while retaining natural shine that make it rare and valuable. Being strong, resilient and iridescent, the mother of pearl white makes every neck unique and enchanting. That is why our collection of impeccable and different necklaces with crosses makes a real difference to your fashion statement. Available at a reasonable price, our selective items are a symbol of religious love and overcome all expectations in a perfect manner.
The designer-inspired necklace is really great for any occasion and makes its presence felt by others when you wear it as a necklace, bracelet or pin.





 Erik Fleming, Feb 10, 2012
We purchased my jewelry products from here and loved it.
---