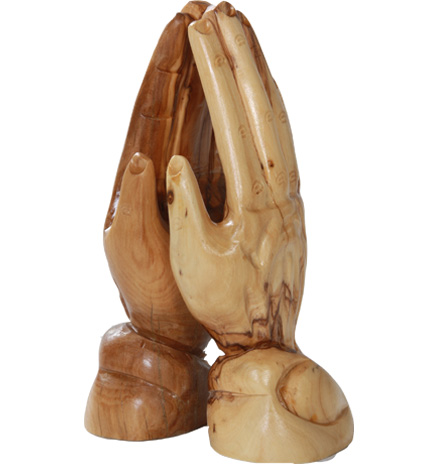 Jesus Praying Hands Sculpture
DescriptionPrayer is one of the most important aspects of life, and this beautiful olivewood rendition of the classic praying hands sculpture offers an important reminder of the power of prayer. Do you know the interesting history behind the Praying Hands? It might surprise you to discover that Christians are not the only people who use this meaningful sign of respect; people from all over clasp or fold their hands together in a gesture of respect, often bowing simultaneously. Jesus himself, being a Jew, prayed with clasped hands; just look at a picture of the Lord praying in the Garden of Gethsemane on the night before he died, and you'll see that his hands are clasped.
This meaningful sculpture shows the beauty of the olive wood from which it is carved, plus it displays the magnificent simplicity found in the elegant, respectful display of clasping one's hands together, whether out of obedience, submission, repentance, sincerity, supplication, or worship. When you pray, you may find that using this gesture helps you to better focus.
Product Heigth: 6.0″ / 15cm
Product Width: 4.0″ / 10cm
Product Length: 2.4″ / 6cm