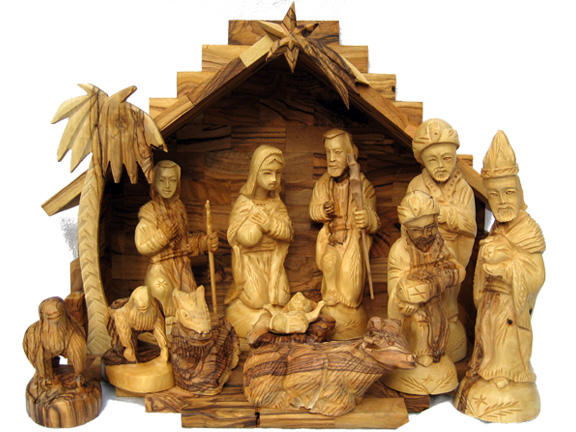 Large Olive Wood Christmas Nativity with Carved Figurines
DescriptionAbsolutely exquisite, this beautiful hand carved gift from the Holy Land is one that will always be treasured. Heirloom quality, and featuring the Holy Family, the three wise men, and a shepherd, this olivewood nativity also includes baby Jesus and a separate manger, along with four animals, including sheep, a cow, and a donkey, all basking in the light of the guiding star of Bethlehem. Each of the figurines has a hand carved face, and their clothing is richly detailed as well. A marvelous centerpiece to place on the mantle or in a window, or even on a table all its own, this lovely nativity scene is a wonderful reminder of the real meaning of Christmas.
Measurements: Mary, Joseph, the three Wise Men and the Shepherd with lamb measure 4.5 – 5.5 inches in height. Baby Jesus and a separate manger measure 2.5 inches. 4 animals (two sheep, cow, donkey) measure 3-4 inches.
Product Heigth: 9.5″ / 24cm
Product Width: 11.8″ / 30cm
Product Length: 7.0″ / 18cm