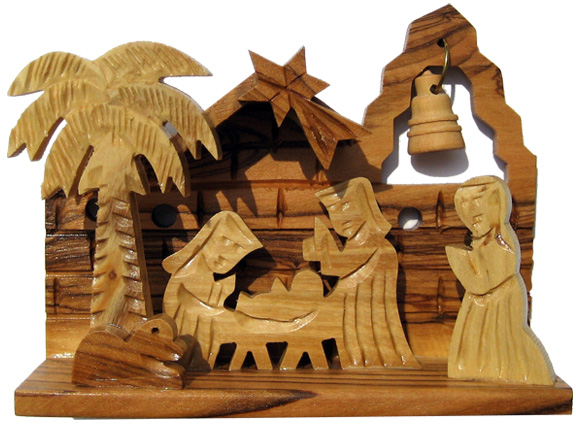 Nativity With Bell Olive Wood Christmas Nativity Set
DescriptionA wonderful Christmas gift for yourself or someone you love, this beautifully detailed little Christmas nativity set is right at home anywhere you put it. Featuring not only the Holy Family, but a shepherd and one of his sheep resting beneath a leaning palm tree, the set includes the guiding star of Bethlehem, plus it includes a bell in a carved tower, which resembles the historic church of the Nativity.
A little about the church, so you can share the story with others: This is one of the oldest operating Christian churches in the world. Built in the year 333 in the location where Jesus was born, it has attracted pilgrims from all over the world for almost 1,700 years. Bethlehem's Church of the Nativity is listed by the World Monuments Fund as one of the 100 most endangered sites in the world; by supporting the Christian community in the Holy Land, you can make a difference.
Product Heigth: 3.0″ / 8cm
Product Width: 4.0″ / 10cm
Product Length: 1.6″ / 4cm