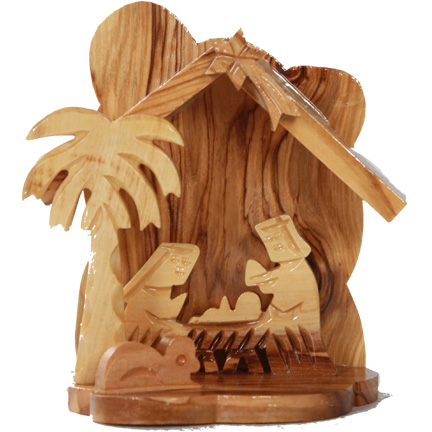 Small Grotto Olive Wood Christmas Nativity Set
DescriptionThis lovely and eye-catching Wood Nativity Set depicts the scene where Jesus is born and laid in a manger accompanied by Joseph and Mary.
Today, we often picture the stable where Jesus was born as a traditional wooden structure, complete with a straw roof and stalls for animals. However, the actual stable where the King of Kings came into this world was actually a little cave. The site has always been sacred to Christians, and today, the Church of the Nativity in Bethlehem still stands there. This beautiful little grotto setting features Mary, Joseph, and the newborn baby Jesus lying in the manger where he was laid; above the Christmas star shines, and at the foot of the manger, a humble lamb rests. Beautiful, handmade, and very economical, these olive wooden nativity scenes make wonderful Christian Christmas gifts.
Product Heigth: 3.5″ / 9cm
Product Width: 3.0″ / 8cm
Product Length: 2.4″ / 6cm