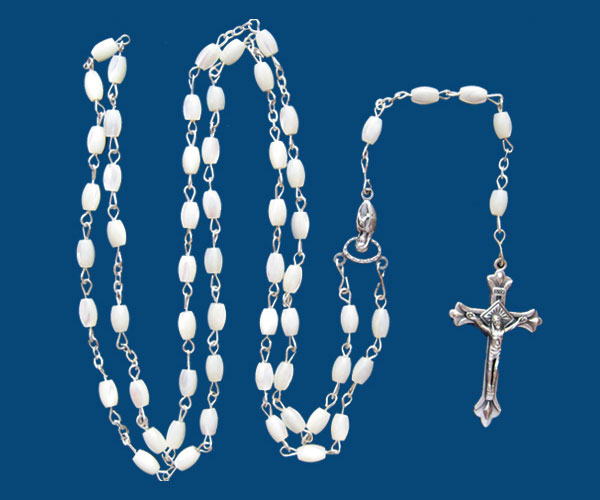 Mother of Pearl Rosary Made in Bethlehem
DescriptionA very beautiful rosary that warms when held in the hands, and a useful tool for prayer and meditation, this mother of pearl rosary is a classic First Communion gift, and it makes a lovely gift for anyone on any occasion, as well. The beads used to make this rosary are real mother of pearl – not plastic. They are made from sustainable mother of pearl from Australia, carefully crafted one-by-one. The Holy Land artisans who make these beads use very simple tools and ancient methods passed from father to son, one generation after the next. Here is a condensed version of the history of the Rosary:
Dating back to the ninth century, the rosary beads many people use today to keep track of their prayers were initially used by monks. Daily, these monks chanted the 150 Psalms of the Bible. Many people, who lived close to the monastery, enjoyed listening to the monks chanting, and felt called to worship with them. Since memorizing the psalms and keeping track was difficult for some, the monks suggested that people simply substitute the Our Father or another prayer for the psalms. Today, Angelic Salutations, the Hail Mary, and many other prayers are said with the aid of this simple yet beautiful tool. Many miracles are seen in the lives of those who pray with the aid of the Rosary. Whether giving this as a gift or using for your prayers, these mother of pearl rosary beads are sure to be greatly appreciated.
Length: 33" / 84cm